Electronic Direct Debit & Open Banking Payments for Small Businesses 086 2043415
Take the headache out of getting paid,
and create regular cashflow for your business.
Helping Businesses Collect Weekly Or Monthly Payments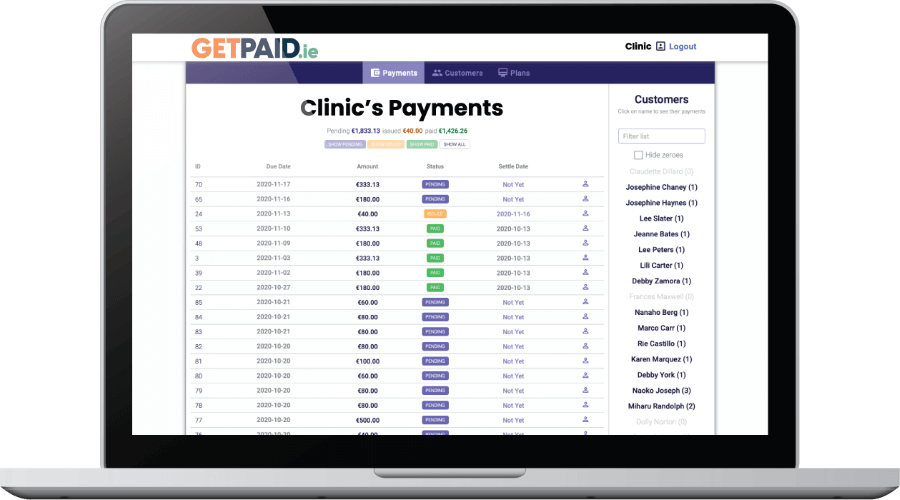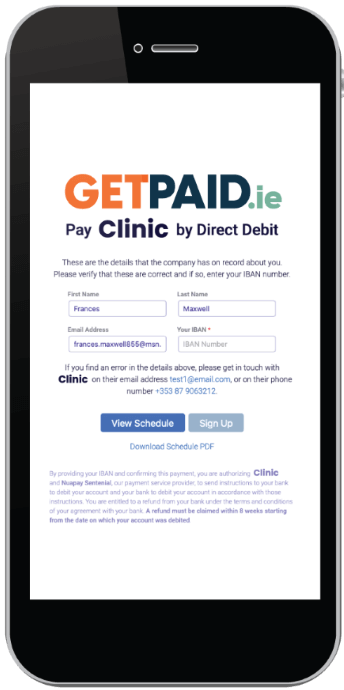 Why use Getpaid.ie
100% IRISH COMPANY
Located in The Hatch Lab, Wexford providing local support
60 SECONDS
SET-UP
Simple set up of customer and email mandate
SIMPLE DASHBOARD
Showing Paid / Pending / Failed / Customers
CLOUD BASED APPLICATION
Set up payments from Home, Office or on your phone
REGULAR CASHFLOW
Regular predictable payments for your business
ELECTRONIC MANDATE
No paper or documents
to print
Happy Customers
Mark Gibbons
Accountant & Business Owner, MG Business Advisory
We recently discovered GetPaid.ie and we are very happy customers. The biggest benefit for us is not having to chase clients for money, and we have created regular recurring cashflow for our business. We would highly recommend any small business trying to improve their cashflow to consider working with getpaid.ie.
Frank Kelly
Partner, KDA Doyle Kelly Accountants
As a busy and fast growing accountancy firm we needed a robust and proven payment system to help collect payments from our clients. We started using Getpaid.ie just over two years ago now, and we have never looked back. The easy to use software makes setting up client payment plans easy, and the customer support is there when you need it.
Dave Jordan
Owner, Cada Media
Having run a successful web design business for the last 20+ years we wanted to bring our cash flow and associated admin to the next level. We had created an online billing platform and now needed a method to retrieve the funds from the clients in an efficient and cost effective way. GetPaid.ie does exactly what it says on the tin and we are happy to be working with you.
Industry Partners